Build friendships while learning new techniques, get to know new quilting and fabric experts, and finishing beautiful quilts.
You're in the right place!
If you're looking for an online group of quilters who are passionate about fabric, beautiful quilts, and having fun sewing, then you've come to the right place!

Our members are some of the most talented and friendly people you'll ever meet, and we're always happy to welcome new members into our community.

So whether you're just getting started with quilting or you're a seasoned pro, we hope you'll join us and see what all the fuss is about!
pst…. we are growing into something incredible and YOU are invited on the quilt journey with us!
Trailblazer is the 2023 Block of the Month!!
Join us for a year of Trailblazing… we'll sew through a few techniques, introduce you to 12 NEW designers from around the world and of course celebrate all the finishes.
Never sew alone again… let's quilt together.
Your energy is so welcoming and contagious! I've always stayed on the edge of conversations and the quarantine just made connecting so much harder. You and everyone I have met have made me feel so welcome. I love the Zoom calls where it feels like we are really connected (as opposed to online classes where you may or may not actually see and hear your guild mates) I have participated in 2 all day sew days and look forward to seeing what everyone is doing and I am learning through the technique and ruler lessons! I would highly recommend the group to others!
Every year we sew an exclusively designed just for us quilt, together.
You'll get access to our exclusive pattern library + technique library + digital PDF downloads +  special meetups with guests quilters from inside the quilting industry + our awesome community. 
Join us to learn new quilting techniques and finish beautiful quilts through out the year that you'll either want to keep or be excited to give to another.
I have made connections with others that I might not have ever met. I love quilting and this group keeps me going. I'm learning different techniques and love getting new information about rulers I haven't tried. I am impressed with all of the beautiful projects that others share. Thanks to all of you!
Encouragement, help, and friendly faces abound and as we are usually our own worst critic, the encouragement piece is HUGE. I am loving the tutorials on rulers, paper piecing, appliques and the quilt a-longs that stretch me and teach me new techniques. Especially during this past year when we have all been so isolated, this community has helped me keep sane and kept me sewing.
From our Block of the Month, to the Fall Mystery and quick quilt alongs, these patterns are designed for any level of quilter and not available anywhere else.
We bring the designers to you! Enjoy monthly chats with designers from around the world. Be inspired, pick up a tip or two and just have fun learning with others.
Digital Content & Support
Easy to follow printable resources, videos, and tutorials will ensure your success!  We're committed to you having the best experience possible!  You will learn new skills while you complete your quilts and projects!
Never sew alone again! You'll fit right in- our community allows you to show off your work, ask questions, support and inspire each other. From beginners to advanced, hand quilters to long armers and embroidery pros – every quilter is welcome.
Join us during one of our monthly show & tells, open sews or meetups to show off your progress and get all the oo's and awe's your quilting heart desires. You'll feel the support, encouragement, love, and inspiration every time. No travel required, join us from anywhere!
During the year our members enjoy some additional exclusive quilt alongs, challenges, swaps, charity sewing and more – Giving you a variety of projects and activities to choose from. Do one or all, it's up to you!
During my quilting journey I had conflicts in schedule, dates, times and family activities – keeping me from participating in a quilt group.
I loved the community and support of a local quilt group and knew that it was something that helped me continue quilting.
I knew I wasn't alone in my frustration of missing out on quilt groups, so I started this quilting community. Allowing others – no matter where you are or what your schedule to participate.
Since founding it, I have moved 3 times – but it hasn't changed a thing! I am able to still connect with members, sew along and not miss a beat in my quilting journey.
I am a 2nd generation quilter. My hands have always been busy and I love to touch all the fabric. Starting with X stitch and embroidery when I was eight to finding quilting with my first child. I found that quilting was good for my soul.
Quilting tends to be a forever journey and keeping up with tips, techniques and others is always growing – the need for having a resource I can use and add to is something I needed and have enjoyed building.
Along my path I also acquired quite a stash and unfinished projects! In addition to meeting others, I needed a place where I could sew on whatever I needed and encouragement for finishing what I started and using up what I had sitting on my shelves already.
Starting the Patchwork Quilting Community is something that I truly love. Giving others an opportunity to share, explore and learn in a supportive community as well as a way to track projects, progress and organize our stash – so we are excited about using it and finishing what we start.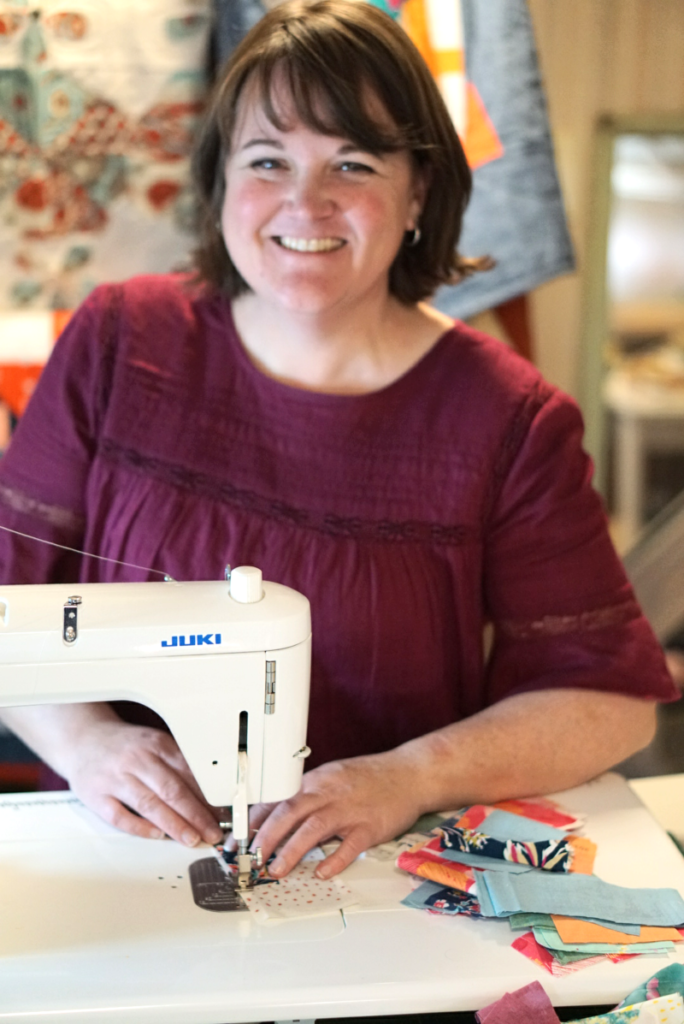 Full Access to Everything Inside the Posse Plus+ Quilting Together Community
You can pick and choose what you want to sew, participate in and attend!
Whether it's simply connecting at our meetups and sewing what you've already started or jumping right into our current sew alongs and members activities…
We make quilting the best part of your calendar
I started this quilting community so other quilters who find themselves with busy schedules, family and location difficulties could still enjoy a quilt group, use their stash, finish beautiful quilts, learn a few techniques, and connect with other quilters.    BECKY